Tesla's latest software update shows 20% faster supercharging charging
An early test on the latest software update for the Model 3 reveals Supercharging rates have increased 20% in 2019.20.1. This is compared to 2019.12.1 on a V2 Supercharger. The update shows how much work is done behind the scenes in the software on Tesla's vehicles. Consequently, this improves charging speeds and utilization of Tesla's existing Supercharger network.
A Redditor posted detailed charging profiles comparing Supercharging sessions.
When supercharging from 5% to 80% the new firmware completes the charge 20% faster. Also, shows a marked increase on both the low (<10%) and high (>50%) states of charge.
Model 3 Supercharging charts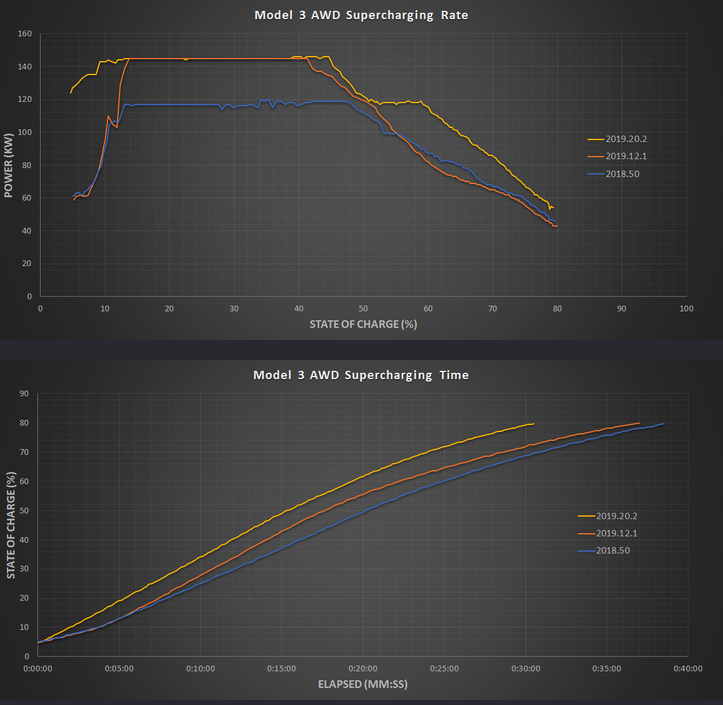 In the previous tables, we can see that both 2019.12 and 2019.20 have essentially the same maximum charging speed at just over 140 kilowatts, with 2019.20 bubbling up over that rate once or twice.
Between the two software versions, the key differences are:
– How fast the charging speed ramps up
– What the ramp down curves looks like.
In 2019.20 version, the charging speed ramps up much faster. Therefore, that delivers more range in the first few minutes of the charge.
Starting from 5%, the Model 3 long range pack now immediately starts charging at 125 kW (formerly 60 kW), and reaches 143 kW by 9% (formerly 13%). The peak rate is maintained until 45%, then shows a linear decrease to 118 kW at 50%, followed by a plateau until 59%, and after that the rate decreases linearly again. This "double hump" may be the new curve or may just be an anomaly with my (one and only) session.
2018.50 was tested on 2/18/2019 at -15°C and charged from 4.9% to 79.7% in 38m 30s
2019.12.1 was tested on 5/1/2019 at 7°C and charged from 4.9% to 79.7% in 36m 45s
2019.20.2 was tested on 6/19/2019 at 9°C and charged from 4.7% to 79.7% in 30m 30s, a savings of 6m 15s over 2019.12.1
All tests were done on an unoccupied stall pair and preceded by at least two hours of continuous highway driving to warm the battery. 2019.12.1 also included On-route Battery Warmup, and the supercharger was set as a destination for the last 30 minutes of driving. Data was pulled from the API at 15-second intervals.

The Redditor added to his comments.
---