MINI collaborates with British fashion designer Paul Smith and modifies a Cooper SE.
The Mini Strip is, as the name implies, a stripped-down, all-electric Mini Cooper SE. This car is a collaboration with British fashion designer Paul Smith. According to Mini, the theme of the collaboration was "Simplicity, Transparency, Sustainability." They have created something extremely special, as Paul stated, by respecting the past while looking to the future.
"Together I think we have created something truly unique by going back to basics, reducing things down and stripping the car."

Said Paul Smith
The basic design philosophy of 'less is more' was followed in this project. Smith took everything that could be removed from the Mini. And he replaced it with sustainable materials.
"Maybe in the future, we'll not need lots of gadgets in our car. If we added less and used recycled and recyclable materials, then it would create a more sustainable world."

Paul thinks
As a result of the reduction, the vehicle has now a very simple design. It is both innovative and unique while still maintaining a premium appeal.
Exterior
With Smith's goal of showing "the perfect imperfection," the vehicle's bodywork was left unfinished, with no colored paint applied. Instead, MINI was painted with a transparent coat to protect against corrosion. The front and rear bumpers were 3D-printed from recycled plastics. The panoramic roof was produced from recycled Perspex. Screws on the wheel arches were left exposed to emphasize the back-to-basics look.
Interior
In addition to Paul Smith's request, the interior of the body shell has been painted blue. The exposed blue metal is the cabin's most significant feature that draws attention. The interior is completely free of both leather and chrome, with seats covered in a knitted fabric. Inside, almost everything has been stripped down to the minimum. There's a new dash top and door caps made from recycled cork. An aluminum steering wheel wrapped with handlebar tape. Also, you can find visible airbags, simply covered with mesh, floor mats made from recycled rubber, and climbing rope door handles.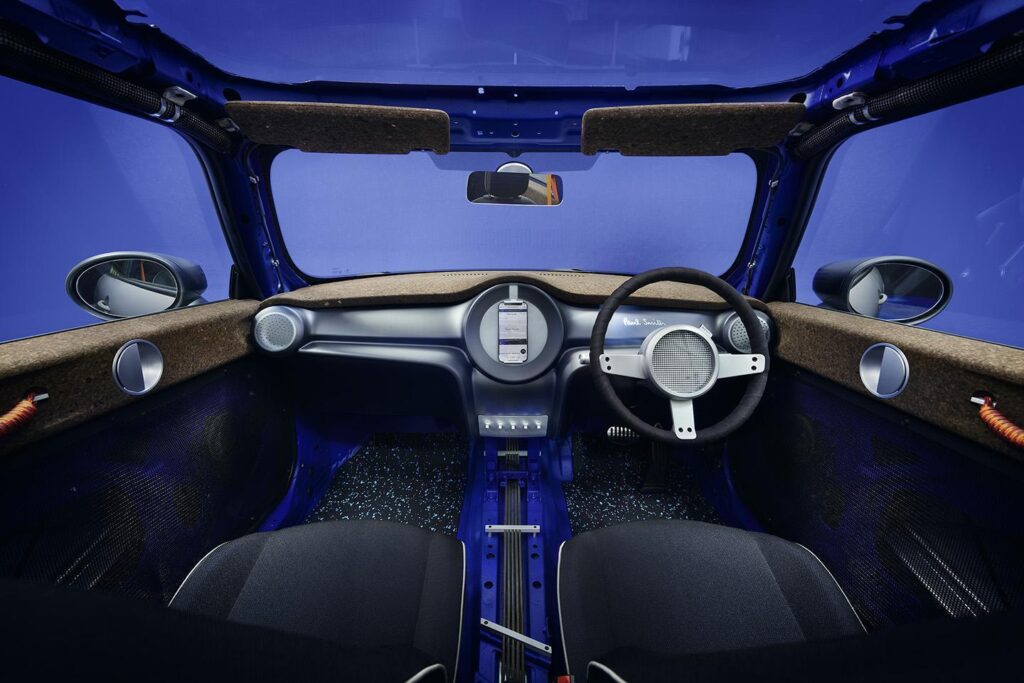 MINI collaborates with Paul Smith.
---