Citroën collaborates with Greece to transform Greek islands into green and sustainable islands.
Greece plans on making all of its inhabited islands more environmentally friendly as part of a goal to reduce harmful emissions by, at least, 55% until 2030. As a result, the Ministry of Energy and Environment signed the "GR-eco Islands" plan. It aims to turn Chalki and other small Aegean islands into "green" islands.
The Greek islands, a popular summer vacation destination, are becoming increasingly popular for eco-friendly initiatives such as electric mobility. A few months after many of Volkswagen ID.3 and ID.4 models landed in Astypalaia island as part of a government initiative, it is now Citroën's turn to take a part in a pioneering project to transform the Greek island of Chalki into an area focusing on sustainability.
Citroën EVs
Citroën is providing a fleet of six fully electric vehicles to the public authorities of Chalki. Additionally, two Ami city cars will be allocated to the Police and Coast Guard authorities respectively along with two New ë-C4 models.
One ë-Spacetourer minivan to the Municipality of the island. And one ë-Dispatch to the Energy Community of Chalki.
All vehicles are supplied on a free 48-month lease. Following this period, Citroën will buy back the cars and donate them to the Municipality of Chalki.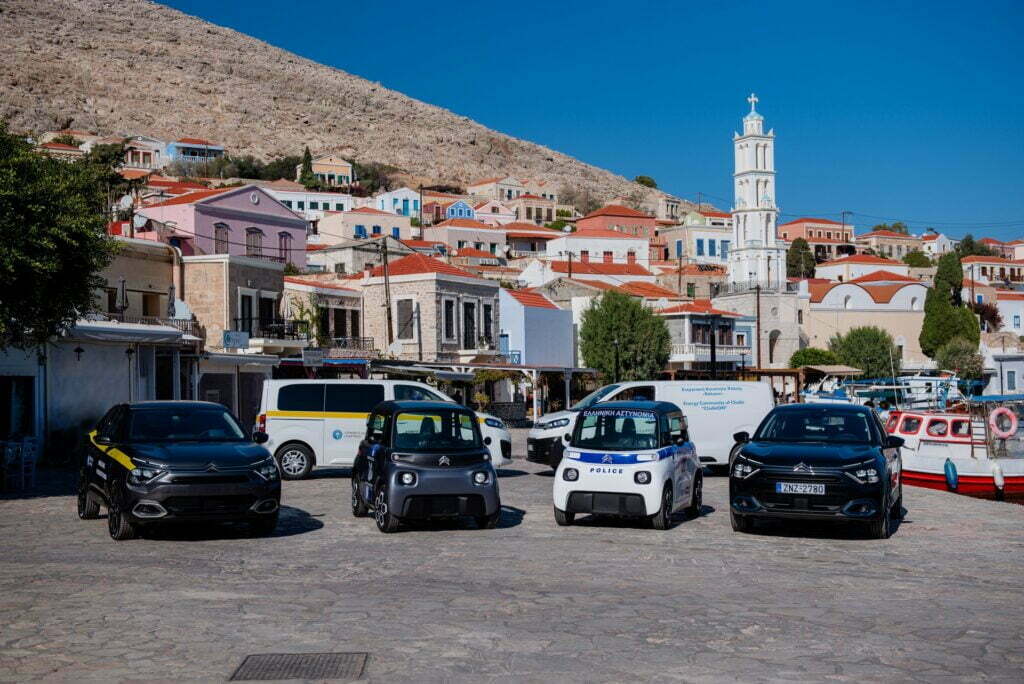 Citroën electrifies Chalki
Citroen CEO Vincent Cobee said that his company is:
"Committed to making electrification available to everyone and we believe that this is a source of progress within the society. We are very proud to contribute to the transformation of Chalki island into an island which will be autonomous, smart, and sustainable."
Since the main goal is to improve the quality of life for the island's residents, Citroën and partners such as the Syngelidis Group have already set the wheels in motion on a plan to replace all old vehicles, with brand new electric ones. Citroën will offer residents and businesses on the island the opportunity to purchase zero-emission electric vehicles. Available will be a wide range of green and smart mobility options, ranging from light quadricycles to passenger and commercial vehicles, with free use of all innovative technologies and connected applications that they incorporate.
This electrification will result in improved air quality, less noise, and a cleaner environment. Which is something we can all seek, regardless of where we live.
---
Citroën collaborates with Greece.